COVID-19 - status October 2021
Since June 15, the smithy has been open for the normal summer season.
On October 30, the smithy will be open for our annual Potato Event.
On other days, the smithy is only open aftere appointment.
Welcome to the Nove Hrady Smithy
Walking from the historic center of Nove Hrady to the 13th century castle, you will find the Nove Hrady Smithy on your right hand side. The building is protected as cultural heritage, but its workshop is still active.
We provide commented informal tours through the smithy and the blacksmith house and barn. In our giftshop, we sell forged items, jewelery and other gifts.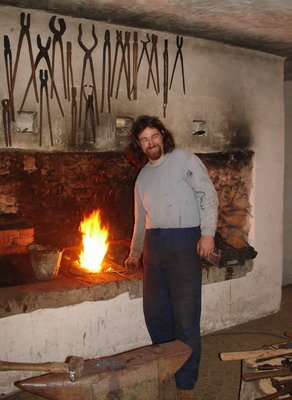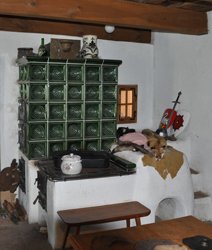 At left, Daniel Cerny giving blacksmith demonstrations.
At right, a ceramic or tile stove
© The Bear (2016, all images and video's © Rozmberk Society)